How to ReWick a coil on a RDTA or RTA Tanks
What you will need:
Your tank

Cotton

Scissors

A small screwdriver

Juice of your choice

Ceramic Tweezers
There are 5 parts of the tank:
the deck- this is the piece with the coils & where you put the cotton

the glass piece

the chamber/chimney

the top cap

drip tip

airflow control

gold plated positive pin
The initial thing you want to do is take the tank apart, take out the old cotton, & clean the pieces- just cold rinse & dry them. Then you can screw the deck on to your mod & heat up the coils and burn off excess sucralose formed on the coil and rinsing the deck and coils under luke warm water- make sure that they are glowing evenly from the inside out-
Now, you'll want to cut the cotton into appropriate lengths to fit throughout the coil and leave an appropriate amount at the sides.
Take the fluffy fragments of cotton & roll one end to a fine point on both pieces. Feed the pointed ends of the cotton through each of the coils, & pull it through to where the cotton is even on both sides of each coil. While you pull the cotton, make sure that there's a little resistance, but not excessively. If there's a great deal of resistance you can pull the cotton out, remove another layer, & try again until it's the precise fit.
Cut each piece of cotton on both sides in line with the edge of the tank. Then you'll fluff the cotton on both sides for easily absorption of your e-juice.
You can now grab the ceramic tweezer. Take it & lightly shove the cotton down while separating the cotton in each coil.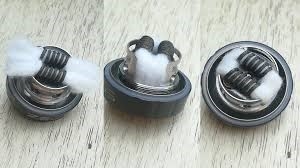 Side Note: Getting the right amount of cotton is a learning experience. You'll know if you have too much cotton because you'll get dry hits. If you have too little cotton there will be leaking & gurgling.
Now it's time to get your juice handy and wet (prime) the coil and cotton. Firing it while wetting the coil and cotton will reduce the taste of cotton after rewicking.
Assemble your tank and refill your tank.
You're all ready to go and have a pleasurable experience with your freshly wicked coil.