How to Make your own Vape Juice | eliquid | ejuice
Make your own E-liquid, be your own creator of what you vape!
Why we tackle this subject?
There will be plenty of customers asking for a specific 1 flavor juice, which is difficult to help with all the manufactured juice which contains flavors which they do not want to taste. Whilst scrolling through social networks, exploring different ways to bake your own desert, or even seeking a new smoothie recipe. DIY your own Vaping e-liquid will be the precise same, so why not do it yourself?
Raging from Desert flavors, to fruity ice juice, there is a wide range of ways to boost your vaping experience and exploring your taste buds with all the different flavors complementing each other.
This guide to DIY will be getting you ready for the mixing experience. So, brace yourself, including your taste buds!
What do you vape? Not just the flavor, but what ingredients?
The question which a lot of people are arguing about, what do I vape? Is there something in my vape which is dangerous?
It's simple, all you do need for creating your master juice:
DIY Base Mixes

Vegetable Glycerin (VG) 500ml | USP Grade 99.8+% Purity
Propylene Glycol (PG) 500ml | USP Grade 99+% Purity

Concentrated Flavoring
Nicotine (If You need that extra hit from your juice)
That are the ingredients which you buy from manufacturers, all blended together!
Ratios of your juice
We do ask the question of why is one bottle of juice thinner than another? That all comes down to the ratio on which your VG and PG are used on. Is there a certain standard ratio on which you should vape on? The answer to that is difficult as it only depends on the juice type.
Juice types:
Vaping E-liquid (Used in normal Direct lung Tanks)
Nic Salts (Used in Mouth-to-lung Devices)
So what ratios are being used in these two different types of liquids?
Vaping E-liquid:
This is normally thicker juice to be vaped in your Direct lung sub-ohm tanks. With this, we do know that Vegetable Glycerin has a higher viscosity than Propylene Glycol, which means that the more Vegetable Glycerin are used in your e-liquid results in a thicker juice. Which are best for the direct lung vaping experience. Ratios used for this e-liquid is VG ≥ 55%; PG ≤ 45%
Nic Salt Juices:
This is the turning point on Direct Lung juices, as Mouth-To-Lung juices are in an exact ratio of VG = 50%; PG = 50%
This is appropriate for the devices as they do use "smaller" coils with limited juice flow holes which makes it better to have a thinner juice to absorb easier to avoid "dry-hits" of limited juice absorbance.
Why using more VG or more PG?
What is the role of using Vegetable Glycerin and Propylene Glycol together? For this let's take each one separate with their characteristics!
Vegetable Glycerin:
Vegetable glycerin, or glycerol, is a clear, odorless liquid produced from plant oils, typically palm oil, soy, or coconut oil. But not to say that it is an oil, it's everything except an oil. Using oils in vaping could result in dangerous effects on your lungs. This plant oil is only used through a manufacturing process in where excess fats which makes up oil are removed from the glycerin to be a safe way to use in the vaping industry to vaporize into a cloud and leave no trace like liquid or damage to the lungs. Vegetable glycerin is a poor absorber of any other kind of liquid mixed with it. This vicious liquid causes more dense cloud when vaped.
Propylene Glycol:
Long story short, this liquid is a Lab created liquid, which are made out of two organic alcohol substances, which absorbs any form of liquid. Because of the use of organic alcohol in Propylene Glycol, this results in absorbing any other liquid easier, which means more flavoring with mixing e-liquids.
So, in reading the characteristics of both liquids, you take the decision of your ratio depending on flavor or Cloud production.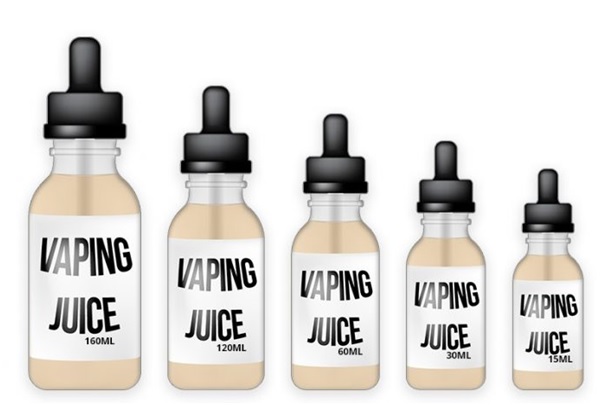 Concentrated Flavors
If you ever took the time to bake a cake, this will be easy to let your mind explore! Mixing the flavors together which you need to make up your flavor profile.
For example, making the best lemon meringue tart will consist of Graham Crust, Lemon Filling, and Meringue.
This all depends on your imagination. Let your mind run free of the ideas. Write them down!
Visit some websites which has E-liquid recipes to scroll through, they are helpful from time to time.
Percentage concentrate to use in your E-liquid:
Everybody has totally different tastes with regards to mixing their own e-liquid. One individual may discover a specific flavor which is overwhelming at 10% while another thinks it is excessively weak at 15%.
There will constantly be a lot of experimentation in mixing your own e-liquid. You will make a great deal of awful blends on the way. However, it is worth all the torture for when you find those astounding mixes that are vaping paradise!
Underneath you'll discover every producer's suggested rates (where accessible), alongside some guidance from our experience of using the flavors and some extensive tips.
Overall Tips on Flavor Levels:
It is surely not always true, but frequently most flavors from a manufacturer will need mixing at similar strengths. So, for example, if you liked one Capella flavor at 8% (which is fairly high), it would probably be a good idea to mix test batches of other Capella flavors at around 8%.
Use your logic of smell. Usually, if a flavor smells very strong it will need a low percentage in the mix – and the other way around.
Flavors respond very differently as they steep. Capella concentrates typically steep well and get stronger/better. Others can be stronger when first mix and then fade a little. Commonly, fruit flavors can be more likely to fading, while rich, creamy flavors often get stronger. For this reason, we mention getting anywhere close to your flavor preference with a test mix and then leaving it to steep for a while before enhancing.
If you are making a higher ratio VG liquid, keep in mind that VG isn't as good at carrying flavor as PG so flavors can seem 'muted'. For this reason, you may need more flavor in a high VG mix.
It is so much easier to salvage a mix that is under-flavored than one that is over-flavored
Make notes on, label and date every test group. There is nothing more annoying than spending hours achieving the ultimate flavor and then not being able to recreate it.
Concentrates VS One-Shots
We all heard of the wonderful thing which entered the DIY E-liquid world, "One-Shots".
This is manufactured concentrates, pre-mixed in a built-up flavor which requires only one flavor mix, usually a manufactured juice company releasing their mixed flavor for you to mix.
So, let's say that there is already a one-shot mixed in our example of above "Lemon Meringue Pie" it will be easier to mix one flavor, than mixing your 3-4 concentrates and having a trail and error moment to find the exact flavor you are working to. This is the heaven to clients having to start mixing their own juice.
Enhancing your juice with Additives
This comes into play eventually, after finding your flavor profile on your juice, of which you can add a sweetener, smoother, or even add in a cooling agent to give you the refreshing feeling whilst vaping your fruity juice. This helps with getting your desired feeling while vaping, giving that last bit of boost. Just be certain to research the effect on which additive will result in your juice before destroying it, know what percent to run.
The one thing everyone is waiting for, Nicotine!
This will be for the people who chooses to have that nicotine hit in the vape. This topic is only a suggestion and guide. This will not tell you how much you have to use. Serious talk is necessary in this topic, as this is the only ingredient which can result in a deadly vape if not used and consumed correctly. Liquid nicotine and e-cigarettes are more likely to lead to nicotine poisoning compared to traditional tobacco-containing products, such as cigarettes and cigars.
Please Take note of symptoms of overdose of nicotine:
nausea
vomiting
increased blood pressure
abnormal heart rate (arrhythmia)
dehydration
loss of appetite
extreme fatigue
dizziness
headache
gas
anxiety
hearing and vision changes
Free-base nicotine and Nicotine Salts are two different types of nicotine strengths. Activated by oxygen. To explain this:
Free-base nicotine are usually used in direct lung devices which has an extreme amount of air-flow which allows for more oxygen to be vaped. This causes the nicotine to react better. So small amounts allow for the nicotine satisfaction. Usually lower than 100mg/ml strength nicotine.
Nicotine salts are usually used in Mouth-to-Lung devices which differs from direct lung devices, allowing less air to enter the tank and giving a restrictive hit which makes carrying nicotine difficult. This means that nicotine content will be higher. Nicotine Salts will have a strength of 100mg/ml or higher. Which means you have to be more careful with this type of nicotine. Start low and work your way up. Not resulting in nicotine overdose.
There are plenty of E-liquid calculators online which you can use to determine the exact amount to add to your juice.
Different bases of Nicotine
You do get nicotine diluted in a VG or PG Base, which has different effects when used.
PG base Nicotine will usually give you a "throat-hit" which are much harsher while vaping, giving you the feeling of a nicotine-hit
VG base Nicotine will give you the smooth vape whilst getting your nicotine. This also improves the cloud production.
Grams vs Millilitres
This is a challenging topic to convince you to use one or the other for best mixing experiences. As grams and millilitres does not have any difference in PG base liquids. This will get more interesting whilst mixing VG base liquids. As you will need to find the exact liquid gravity of the thicker vicious liquid. Thus, we do recommend using millilitres than grams. Which allows for a smaller range of error to occur.
Steeping
Now, you finished mixing your e-liquid. Expecting a great tasting juice to pour into your tank will only result in a mess. It won't reach the flavor profile immediately! Because of the viscosity of the VG, you won't be able to vape instantly, as VG does not absorb flavor immediately. It will have to be shaken over a period of 7 days to 14 days in able to reach a good vaping experience. Think of it like wine, the longer it stands, the better it tastes.
Hints to steep faster and more efficient:
This is the easiest and most common way of steeping your juice. This method blends the contents, another plus for steeping, and also activates the molecules for the oxidation.
Fill a deep bowl with warm water. Test for warmth with your elbow; it should not be unpleasantly hot.
Seal your bottles in a zip-lock bag, and then place the bottles in the bath.
When the water cools to room temperature, remove the bottles.
Uncap the bottles and let the gasses dispel, then close the bottles and shake them well.
Method 2: A Bird Bath
Fill a container with warm water and test the heat with your elbow.
Take the cap off the bottles and place them halfway in the warm water.
Let them rest until the water is cool.
Replace the cap the bottles and shake well.
Method 3: Use a Slow Cooker
Fill the crockpot with water.
Place the e-juice bottles in a zip-lock bag, removing as much air as possible.
Place the crock-pot on low, and place the bottles in the crock-pot.
Leave for 30 minutes to 4 hours.
Uncap, let them breathe, then cap and shake well.
Method 4: Use your Electric Dryer
Place the bottles in a zip-lock bag, and remove the air from the bag.
Place the bagged bottles in a sock and seal the sock with a rubber band.
Place the sealed sock in the dryer and run it on low for 15-20 minutes.
Remove the bottles, uncap them, let them breathe, then cap and shake well.
Method 5: Use your Microwave
Place your bottles in the microwave and run on high for 10 seconds
Remove the bottles, uncap them, let them breathe, then cap and shake well.
Let cool and repeat if necessary.
Method 6: Use an Ultrasonic Jewelry Cleaner
Fill the jewelry cleaner device with water.
Place the bottles in the water.
Turn on the heater for 30 minutes.
Uncap the bottles, let them breathe, then cap.
Repeat until ready.